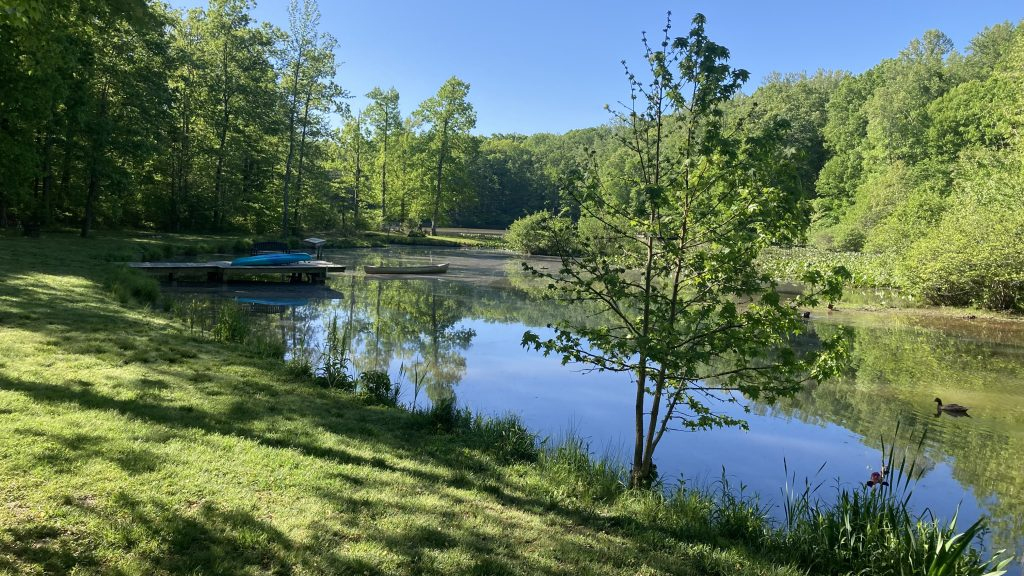 Spring Cookout at Cedar Creek at Howren Pond
WEDNESDAY / MAY 11, 2022 / 5:00 PM TO 8:00 PM
AT CEDAR CREEK ON HOWREN POND
3521 HUGUENOT TRAIL / POWHATAN, VA 23139
EVERYONE IS INVITED.
Bring your canoes, kayaks, fishing gear, bait, lawn games, lawn chairs, and picnic blankets. Parents must accompany children. BYOPFD (Bring your own personal flotation devices).
WHAT'S COOKING?
We will grill up burgers and hot dogs ($1/each). S'more fixings and beverages will be provided for free. Please bring a NUT-FREE side dish or salad AND a small NUT-FREE dessert to share.
RSVP by 2:00 PM on Tuesday, May 10, to help us plan & have enough food on the grill.
DIRECTIONS TO CEDAR CREEK
3521 HUGUENOT TRAIL / POWHATAN, VA 23139
From Stony Point Church • Allow about 30 minutes travel time
• Take Buford Road to Forest Hill Ave. (about .5 miles)
• Turn LEFT on Forest Hill Ave. Go to Huguenot Road
• Turn LEFT on Huguenot Road. Go to Robious Road (about 3 miles)
• Turn RIGHT on Robious Road/ Route 711.
Robious Road/Route 711 becomes Huguenot Trail/ Route 711.
• Go just under 17.5 miles on Huguenot Trail/Route 711.
• Turn LEFT on to a private gravel road (across from Timberview Drive) Look for the balloons on the row of mailboxes. If you get to Route 522, you have gone a little too far.
• Turn RIGHT off of gravel road on to a two-track gravel driveway just past small pond on your left. (Look for balloons.)
• Turn RIGHT AGAIN at fork in the road off of two-track gravel driveway on to another gravel driveway. (Look for balloons again.) Follow it into the woods to the pond.
• Park along the driveway.
NEED TO BUY BAIT?
There is an Exxon gas station & convenience store on the right as you travel west on Route 711, about 7 minutes beyond the intersection of 711/288. You can buy live bait there.
NEED TO GO TO THE POTTY?
We now have modern, hygienic facilities. Or – for you more rugged types, you can use any of our many old fashioned trees.
STORMY WEATHER?
In case of rain or stormy weather, please check the church website or office for updates. Or call Mr. B at 804-539-6453.