WHEN LIFE GETS HARD
Bear one another's burdens, and so fulfill the law of Christ. Galatians 6:2
Support groups provide a warm, caring and confidential environment where heart issues can be shared and explored. It is an oasis where biblical concepts provide the foundation for healing. The following Support Groups are, or soon will be, meeting at SPC.
GRIEFSHARE
Meeting Mondays from 6:45 – 9:00 PM • October 14 – February 10
Contact: Hank or Peggy Graeser
GriefShare is a thirteen-week nondenominational support group featuring biblical concepts for healing grief from the loss of a loved one. There are three key parts to the GriefShare program:
Encouraging, information packed videos featuring leading grief recovery experts,
Small group discussion about the weekly video content, and
A workbook for journaling and personal study exercises that reinforce the weekly session topics.
This Support Group is open to SPC and the community. And because the lessons are self-contained, new participants may start at any time.
Cost: $15 for materials. Scholarships are available
To register, call Hank or Peggy at 796-2021. Or visit griefshare.org and enter zip code 23235. Click "Find a Group" and scroll to find Stony Point Church. Click "Monday at 6:45" And click "Register for this group."
Surviving the Holidays
An additional meeting will be hosted by the Graesers on Monday, November 18, entitled Surviving the Holidays for everyone who thinks they could use some help getting through those tender times after a loss.
DOING LIFE WITH YOUR ADULT CHILDREN
Meeting Wednesdays from 6:30 to 8:00 PM beginning September 18
Contact: Mike and Lisa White
Navigating the relationship with our adult children, from young adult and beyond, requires us to transition as we encourage them on the path to be responsible and independent. Each one should carry their own load. Galatians 6:5
PARENTING THE EXPLOSIVE CHILD
Meeting the Second Monday of each month beginning October 14
Contact: Janice Bilger
For moms of school-age children who lack skills in the domains of flexibility/adaptability, frustration tolerance, and problem-solving. The support group will encourage and support each other through the use of the Marco Polo app and monthly meetings. Book by Ross Greene will be used to help inform the discussion but this will not be a book study.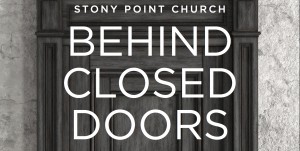 BEHIND CLOSED DOORS
Meeting twice a month
Contact: spcbehindcloseddoors@gmail.com
Behind Closed Doors is a Support Group that offers the hope and power of the gospel to women who have experienced emotionally destructive relationships with men. It provides ongoing support for women who are currently in relationships and marriages or recently separated or divorced. While it is not designed to take the place of formal counseling, it does provide a safe and empathetic place to share, encourage, offer hope, and find other resources when they are needed.
SUICIDE AWARENESS AT SPC
Anxiety and Depression are not respecters of persons. Their ultimate end, left untreated, can result in suicidal thoughts and possibly suicide. According to the National Alliance on Mental Illness, suicide is the second leading cause of death among people between the ages of 10 and 34. One in five adults experience mental illness each year. At SPC, we are working to demonstrate the love of Christ as we help those within our church and community who deal with depression, anxiety, self-harm, addiction and suicidal thoughts.
The twelve suicide warning signs are (according to cdc.gov):
feeling like a burden,
being isolated,
increased anxiety,
feeling trapped or in unbearable pain,
increased substance use,
looking for a way to access lethal means,
increased anger or rage,
extreme mood swings,
expressing hopelessness,
sleeping too little or too much,
talking or posting about wanting to die, &
making plans for suicide.
WHAT YOU CAN DO TO HELP

Ask the people around you who are exhibiting one or more of these signs how they are feeling and if they are contemplating suicide. Studies have shown that asking at risk individuals if they are suicidal doesn't increase the risk of suicidal thoughts or actual suicide. Keep them safe and find out if they have a specific plan. If you can, remove firearms and medications from their reach. Be there and offer support. Help them connect and follow up. Visit BeThe1To.com for more information.  Contact Janice Bilger for counseling and referrals.
The Lifeline is 800-273-8255.