Dear Friends,
We have been much loved and have seen God's kindness to us in numerous ways.  Last Sunday, after the service in Vitkovce, the Roma believers provided a wonderful farewell meal and showered us with gifts that included a winter coat; a dress; a home-made cookbook with personal letters; and the list goes on. Wednesday, we had a meal with our Indian friends here in Kosice and once again shared with them the wonder-filled facts of the gospel. It was with tears that they reluctantly departed. Our desire in sharing this with you now is to show you that even though seemingly very little efforts were made, God graciously "supercharges" them in profound ways that are unexpected and wonderful.  So, our hope is that such warm expressions of love are evidences that God is drawing these students to himself, and these precious gospel seeds will some day bear fruit to eternal life. We had a celebration time with the church inTrnava (photo below) and tomorrow the church here in Kosice will also have a farewell meal. Needless to say we're going to have to begin a diet!
We've been greatly encouraged by the way this whole goodbye process has fallen together. It has been confirming to us that this decision to retire is of the Lord.  God has given funds for the ongoing rent of the Arts Centre via money we got from  selling pottery equipment.  He has moved in the hearts of Slovaks to carry on the student ministry; pottery classes and Bible studies, etc.   He has brought numerous details together at just the right time, like providing enough man-power and, most unexpectedly, just as that man-power showed up….. a large debris box (intended for the neighborhood) to pitch all of our unwanted furniture into.
As we now begin to look forward to another half year of visiting you all and reporting on God's goodness, we ask you to please pray for the following:
Unity, joy, and willing hearts for reaching out to the lost among the Slovak "staff" who will be carrying on the work at the Arts Centre.
John and I as we have some very difficult medical decisions to make.  Your prayers for wisdom will be greatly appreciated!
That our support stays strong until we retire at the end of April 2020.
In the Lamb,
John and Kathy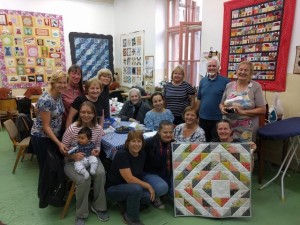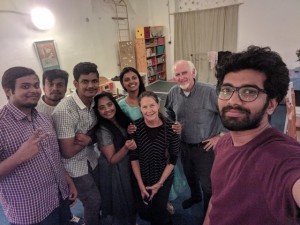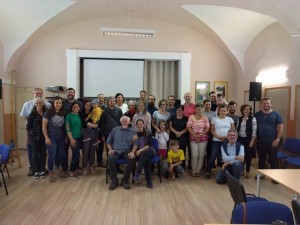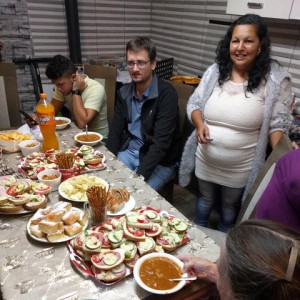 1) A wonderful going away gift from the Patchwork Club.
2) Pray that God continues his work among International students.
3) A nice farewell from Trnava.
4) A going away lunch by the believers in Vitkovce.