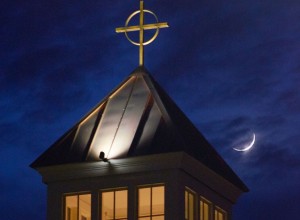 Most Wednesday evening activities at the church are on hold, due to COVID-19. CLICK HERE to find out more about virtual and in-person opportunities to be involved in our ongoing ministry and mission. 
WEDNESDAY DINNER AT SPC • 5:30 TO 6:15 IN THE FELLOWSHIP HALL
A simple, inexpensive, kid-friendly dinner served from 5:30 to 6:15 (Note: children who have Cat Club Choir Practice from 6:00 to 6:30 will eat at 6:30 with their leaders). Please help us plan by RSVPing. And, if you are willing and able, please bring a nut-free treat to share on our dessert table. After dinner, stay for one of SPC's Wednesday Evening Community Groups for Adults, High School Community Groups, Middle School Youth Fellowship, CAT Clubs, & Kitty CAT Clubs. Nurseries are provided. If you can help us set up and prep, serve, and/or clean up on Wednesdays, contact Michael Bryant.
WEDNESDAY EVENING COMMUNITY GROUPS • 6:30 TO 8:00 PM
Meeting September through May • Community Groups at SPC are where we are growing to be more like Jesus by practicing love. The people in these groups make two related commitments: 1) To love the people in their group, and 2) To occasionally, as a group, express love to neighbors. While Wednesday Evening Community Groups are primarily an opportunity for parents to be in Community Groups while their kids are participating in Cat Clubs, Middle School Youth Fellowship, or one of our High School Community Groups, everyone is welcome. To join a Wednesday Evening Community Group, contact Curt Kenney.
We have several Community Groups that meet on Wednesday evenings. For details, click on any group below:
GATEWAY COMMUNITY GROUP • THE LIBRARY
Led by Curt Kenney and David & Shelly Dahlstrand • This group provides an SPC Community Group experience for people who are new to the faith or new to the church, and desiring to make personal connections at church. Each week, through discussions and prayer, the participants get to know and begin to love one another. And when the time is right, they are given the opportunity to create new Community Groups and to deepen the relationships they have established in the Gateway.
WOMEN'S BIBLE STUDY GROUPS • ROOM 206
The King We Need: A Study in First Samuel
Led by Various Teacher • This year we are studying First Samuel, the story of God's people, our people, clamoring for a king. God answers their cries and all of the kings He provides, even those who seem to be the best, are deeply flawed, as we are all flawed. All of these kings point us to the future coming perfect King of Kings, Jesus! Each lesson will begin with a short teaching focused on application of the scripture to our lives followed by time in our groups to discuss and pray through God's Word.
COMMUNITY GROUPS FOR MEN • ROOM 130 & ROOM 123 (ZAC'S OFFICE)
Led by George Deebo and Rob Garnett • Men just being men. Discussing the issues of the day from the perspective of faith and faithfulness. Praying for one another through the daily struggles of home and work.
SPC CHLDREN'S CHOIR • 6:00 TO 6:30 IN THE SANCTUARY
For students, first through fifth grade.
WEDNESDAY EVENING NURSERIES
Our nurseries will be open for business from 6:30 until 8:00 PM every Wednesday to care for infants and toddlers from birth through 36 months. To help us give excellent care to your children, please be sure to complete the Nursery Registration Form for your babies before you drop them off.
KITTY CAT CLUB • ROOMS 109, 112, & 116
Learning the foundational stories and verses in the Bible. Kitty Cats (age 3 through Kindergarten) meet on Wednesday evenings from 6:30 to 8:00. Kitty Cat Club has three big goals: Helping kids develop Christian friendships at church, laying a strong foundation for their formation of a Christian world-view, and, most importantly, helping them learn to bring their faith in Jesus to life. Kitty Cat lessons will be supporting the Sunday School lesson for the prior Sunday which is from Gospel Project curriculum.
CAT CLUB • ROOMS 111, 115, & 117
Building faith in Jesus one answer at a time. Cat Club is one of SPC's discipleship ministries for children (first through fifth grades). Cat Club has three big goals: Helping kids develop Christian friendships at church, laying a strong foundation for their formation of a Christian world-view, and, most importantly, helping them learn to bring their faith in Jesus to life. Cat Club lessons are based on the New City Catechism. Parents are encouraged to help their children memorize, understand, and live by these truths.
MIDDLE SCHOOL YOUTH FELLOWSHIP • ROOM 201
MSYF meets most Wednesdays from 6:30 until 8:00 PM. It strives to help students cultivate a greater love for God and people. This is done through much laughter and fun, Bible study, small group discussion, and prayer.
HIGH SCHOOL COMMUNITY GROUPS
Guys in Room 204 and girls in Room 202 • These Community Groups meet on-site most Wednesdays from 6:30 until 8:00 PM. They are same-sex groups that provide an intimate, informal atmosphere for fun, study, and fellowship.
__________________________________________________________________________
DIVORCE CARE • ROOM 106 (beginning March 18)
You don't have to go through it alone. Most people will tell you that separation and divorce are the most painful and stressful experiences they've ever faced. It's a confusing time when you feel isolated and have lots of questions about issues you've never faced before. DivorceCare groups meet weekly to help you face these challenges and move toward rebuilding your life. Each session has two distinct elements: During the first 30–40 minutes of the meeting, each DivorceCare group watches a video seminar featuring divorce experts. To sign up and ask questions, contact Janice Bilger.
____________________________________________________________________
GUARD THE GAP • ROOM 129 (CURT KENNEY'S OFFICE)
A group of people who have been moved by the Apostle Paul's longing for the salvation of his countrymen to pray fervently and faithfully for missions and missionaries on the third Wednesday evening of each month.